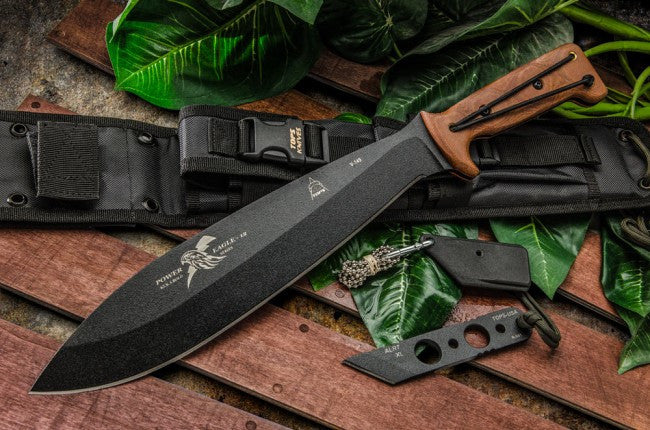 TOPS PE12 Power Eagle 12 w/ Nylon Sheath
Made in U.S.A.

O/A Length: 17 5/8"
Blade Length: 12"
Thickness: 1/4"
Steel: 51-60 Spring Steel
Handle: Tan Canvas Micarta
Blade Color: Black Traction Coating
Sheath: Nylon
Weight: 1.6 lbs
With sheath: 2.0 lbs
Designed by: Leo Espinoza

Included: Tops Whistle & Tops ALRTXL-01 Knife.
POWER EAGLE 12
 
...HAND OPERATED POWER TOOL,  WITH OVERDRIVE...

DESIGNED BY LEO (THE LION) ESPINOZA..
THIS BIG GUY WAS BROUGHT UP IN THE HEART
OF THE ROCKY MOUNTAINS, AND WAS HUNTING,
FISHING,  SHOOTING AND  HIKING,  SINCE
HE WAS KNEE HIGH TO A GIANT GRASSHOPPER.
LEO HAS BEEN WITH TOPS VIRTUALLY SINCE ITS INCEPTION.
WHILE STILL ATTENDING SCHOOL,  HIS BROTHER BROUGHT HIM INTO
TOPS WHEN THE ENTIRE OPERATION WAS JUST STARTING IN A LARGE
GARAGE, SOME  11 YEARS AGO.
 
 
HE PERSERVERED THROUGH MANY YEARS, LEARNING
EVERY STEP OF KNIFE MAKING,  FROM THE VERY BASICS, TO THE
MOST ADVANCED.  THINGS THAT HE WAS NOT TAUGHT,  HE
LEARNED ON HIS OWN,  SEARCH AND FIND, TRIAL AND ERROR, 
AND AFTER YEARS OF PERSISTENT WORK,  HAND MADE PERFECTION, 
A NEW KNIFE WAS BORN, AND THEN, MANY A NEW KNIFE.
HE IS NOW THE PROUD MANAGER OF MANUFACTURING, 
AND TEACHER TO THE NEW KNIFE MAKERS THAT JOIN TOPS. 
AND DOES MOST OF  THE PHOTOGRAPHY ON OUR WEBSITE.
 
 
HIS LOVE OF KNIVES BROUGHT OUT A SKILL THAT WAS HIDDEN
WITHIN HIM.  HE HAS A GREAT APTITUDE FOR ARTISTRY,
HE STARTED SKETCHING RIGHT ON THE SURFACE OF HIS WORK-
BENCH AND CREATED HIS FIRST WELL KNOWN PIECE... THE
CALIFORNIA COBRA.   THIS WAS JUST THE START FOR HIM.
HIS DIRECT INFLUENCE IS IN MOST ALL THE PIECES THAT TOPS
HAS CREATED IN MANY YEARS.  OFTEN TIMES DESIGNS ARE
SUBMITTED TO TOPS AND REALLY NEED THOSE LITTLE EXTRAS,
WHICH TURN A ROUGH PIECE INTO A GREAT PREFORMING AND
HANDSOME KNIFE.
 
HE IS A FAMILY MAN AND A GENTLE-GIANT OF A GUY....WELL
RESPECTED IN THE KNIFE COMMUNITY AS WELL AS WITH THE 
MANY FRIENDS THAT KNOW HIM WELL...AND APPRECIATE
HIS SKILL,  HUMOR AND LOYALTY, PERSERVERANCE.
LEO IS THE ONLY GUY WE KNOW THAT HAS HIS WORK TATOOED
ON HIS CALF,  A GREAT BIG STEEL EAGLE 107....
HE IS A PROUD PART OF THE TOPS FAMILY.....
 _______________________________________________
 THE POWER EAGLE-12 IS A HAND OPERATED FORCE MULTIPLIER...
BACKGROUND:
FOR HUNDREDS OF YEARS, PEOPLE HAVE BEEN SURVIVING UTILIZING
MACHETES AS A SOURCE OF INCOME, FOOD, SHELTER AND A SELF
DEFENSE TOOL.
TOPS DESIGNER LEO ESPINOZA TOOK THAT TOOL AND PREFACE,
COMBINED WITH A KUKURI AND BOLO, AND PUT IT ON STEROIDS
WITH A HIGHLY FLEXIBLE IMPACT RESISTANT STEEL..
AND VERY COMFORTABLE INDESTRUCTIBLE HANDLE ERGONOMICS,
SO THAT THE BUSHMAN, EXPLORER OR OUTDOORSMAN CAN USE
IT ALL DAY LONG, WITHOUT HANDLE FATIGUE.

WHETHER USING IT TO CLEAR A TRAIL, BUILD SHELTER, OR
FOR MILITARY OR SURVIVAL APPLICATIONS, THIS IS DEFINITELY
AN IMPORTANT AND EASY TOOL TO USE. HACKING AND WHACKING,
IT MAKES SHORT WORK OF MOST ANYTHING THAT GETS IN ITS WAY.
HOWEVER, THE LIMP WRISTED NEED NOT APPLY,
THIS IS A REAL MAN'S TOOL.
THIS LARGE KNIFE IS TRULY A MIX OF THE BEST OF TWO HISTORIC AND TRUSTED KNIVES, IN BOTH DESIGN AND ACTION.
THE KUKRI AND THE BOLO.
THE KUKRI…
MANY BELIEVE THAT THE PRESENT 'KUKRI' DESIGN ORIGINATED ABOUT 2,500 YEARS AGO. THE CURVED DESIGN AS IT IS KNOWN TODAY, WAS CREATED IN THE MOUNTAINS OF NEPAL…FOR WORK AND FOR BATTLE. THE KNIFE BECAME SO POPULAR IN THE 1800, THAT GHURKA HILL TRIBES WHEN ENCOUNTERING THE BRITISH INVADERS, GAVE THE BRITISH SOME VERY FIERCE RESISTANCE. THE GHURKAS CAME OUT OF THE JUNGLES AND CUT OFF HEADS AND LIMBS OF THE BRITISH SOLDIERS.
THE BRITISH FINALLY WITHDREW, BUT WISELY EMPLOYED THE GHURKAS LATER TO ASSIST BRITISH TROOPS. THEY EVEN USED THE GHURKAS IN FIGHTING THE GERMANS IN WW I. TODAY, GHURKAS STAND ALONG SIDE OF BRITISH TROOPS IN IRAQ AND STILL CARRY THEIR KUKRI KNIVES.
THE BOLO…
A BOLO IS A LARGE CUTTING TOOL SIMILAR TO A MACHETE. USED PARTICULARLY IN THE JUNGLES OF INDONESIA AND THE PHILIPPINES. THE PRIMARY USE IS FOR AGRICULTURE AND TRAIL BLAZING. THE BOLO IS ALSO USED AS A MILITARY WEAPON..BUILT WITH A SOLID FULL TANG AND A LARGE BLADE THAT BOTH CURVES AND WIDENS AT ITS TIP. THIS MOVES THE CENTER OF GRAVITY AS FAR FORWARD AS POSSIBLE, GIVING THE KNIFE EXTRA MOMENTUM FOR CHOPPING. SO CALLED
'JUNGLE BOLOS' WERE INTENDED FOR COMBAT RATHER THAT AGRICULTURE
TOPS KNIVES HAS TAKEN WHAT IT CONSIDERS THE BEST POINTS OF EACH KNIFE, WHICH HAS INCREASED ITS HANDLING ABILITY TO THAT OF A FAST MACHETE.
ALL IN ALL, OUR FIELD TESTS HAVE INDICATED THAT THIS KNIFE COMBINATION, CAN BE A GREAT ASSET TO A FIELD OPERATOR,
OR OUTDOORSMAN, IN HEAVY BRUSH OR JUNGLE ENVIRONMENTS.
TOPS KNIVES… FOR GUYS WHO GO…OUTSIDE THE WIRE….
PLEASE ALLOW 4 TO 7 DAYS FOR SHIPPING